Introduction to our Pastor - Pastor Steve Olson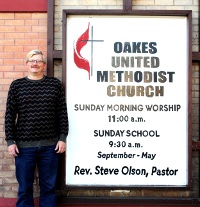 Welcome to the Oakes United Methodist Church. It is a privilege to serve the caring people of this congregation since 2003. I love God and the opportunity to share His love.
I grew up on a farm near Reynolds, ND and graduated from Central Valley High School. I went to college at Hillcrest Christian College in Medicine Hat, Alberta, receiving my Bachelor of Religious Education.
I married Shirley Strobel on August 13, 1977. I received my Masters of Divinity Degree from Western Evangelical Seminary in Portland, Oregon in 1984 and was ordained in 1985.
I have pastored Evangelical and United Methodist Church congregations in Montana, North and South Dakota.
We are blessed with four children, Nicole, Bryan, Hope, and Joy, and they are the delight of our lives.
Some of my hobbies include: fishing, kayaking, motorcycling, woodworking, target shooting with a bow and pistol, leather tooling, and having coffee with new and old friends alike.
I look forward to the opportunity of meeting with you.
Service Info
Pastor Steve Olson - View Profile
Sunday Worship, 11 am
We celebrate Holy Communion the first Sunday of each month. We have an open table for all who profess to acknowledge Jesus as their Lord and Savior.
We welcome you to come and worship with us.
If you have any questions regarding our service times or the church, please give us a call at 701-742-2925.
Our sanctuary is handicap accessible.